Their final "solo" concert will be held at Tokyo Dome on March 31, April 1, 2016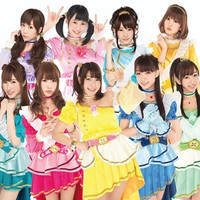 Two days before their first appearance in Kohaku Uta Gassen, Japan's national public TV station NHK's New Year's Eve singing program, μ's, the nine-member voice actress unit from the Love Live! School Idol Project franchise, clearly denied the reports by some media that they are breaking up after their two-day Tokyo Dome concert next Spring.
At the press conference after the rehearsal, Emi Nitta, the VA for Honoka Kousaka, said, "The Tokyo Dome concerts will be our final one-man (solo) performances, but it doesn't necessarily mean that it will be our breakup concert." Sora Tokui, voicing Nico Yazawa, also added, "It's not a breakup, it's just our final one-man live to compile our activities." So we can expect a possibility of their non-solo activities in future, such as a joint concert with Aquors, a new VA unit from the Love Live! Sunshine project.
The eight-member μ's performed "Sore wa Bokutachi no Kiseki," the OP song for the TV anime 2nd season,
as the 11th performer in Kohaku Utagassen last night. A newly-produced short anime footage introducing the
anime characters was attached before their performance. Unfortunately for those who were not able to watch
the live-broadcasting, the footage and images have not been legitimately available on the web yet.
μ's
Source: Mantan Web
© 2013 Project Love Live!