Arjuna Lancer from pre-release promotion joins mobile game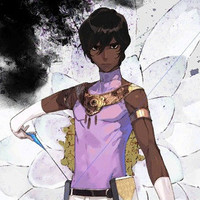 Mobile game Fate/Grand Order celebrated the new year with an event that introduces Arjuna, the Archer featured in the game's pre-release promotion. The other Servant introduced in the event is Lancer Karna, previously featured in Fate/Apocrypha, and, like Arjuna, designed by Pako.
The two are featured in a Daily Special 5★ summon gacha with 「5★ (SSR) Gilgamesh」, 「5★ (SSR) Sakata Kintoki」, and 「5★ (SSR) Scathach」on the schedule:
1/1 - Gilgamesh
1/2 - Kintoki
1/3 - Karna
1/4 - Arjuna
1/5 - Scathach
1/6 - Karna, Arjuna
1/7 - All 5
5★ Archer Arjuna - new for Fate/Grand Order, designed by pako, voiced by Nobunaga Shimazaki
December 31, 2015
5★ Lancer Karna, previously featured in Fate/Apocrypha, designed by Pako
5★ Archer Gilgamesh, previously featured in Fate/stay night, Fate/zero, Fate/Extra CCC, Fate/strange fake, Prisma Illya and more. voiced by Tomokazu Seki, designed by Takashi Takeuchi
5★ Berserker Sakata Kintoki designed for Fate/Apocrypha and previously featured in Fate/complete material IV Extra material.- voiced by Kōji Yusa, illustrated by Raita Honjou.
Lancer, 5★ Scathach- voiced by Mamiko Noto - illustrated by Hirokazu Koyama.
legendary martial arts taeacher of Cú Chulainn
Craft Essences
Happy x3 Order (bonus for logging in, illustrated by Nakahara, featuring Mashu Kyrielite, Artoria Pendragon, Jeanne d'Arc, and Fou)
Grand New Year (illustrated by Takeuchi Takashi)
Heroic New Year (illustrated by TAa)
Peacefulness of 2016 (illustrated by Shirotsumekusa)
Law the Jungle (illustrated by Riyo)
Da Vinci's Workshop has added Mona Lisa (illusrated by Simosi)
via Type-Moon Wiki Fate/Grand Order Wiki and Fate/Grand Order Cirnopedia

------
Scott Green is editor and reporter for anime and manga at geek entertainment site Ain't It Cool News. Follow him on Twitter at @aicnanime.