"Sad Story of Emmeline Burns" also coming January 5th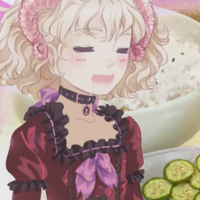 Visual novel localizer/distributor Sekai Project has posted a trailer for visual novel Strawberry Vinegar. This a slice-of-life story with food, cute demons, yuri, and more food from Ebi-Hime, along with Ebi-Hime's Sad Story of Emmeline Burns will be released January 5th.
"Feed me, or I'll reap your soul!"
And with those ridiculous words, my whole life was turned upside down.

Sakuraba Rie, aged nine, is a cynical and grumpy girl who cares little for her fellow classmates, and does not have a single friend.
That is, until a self-proclaimed demon from the deepest, darkest pits of Hell suddenly appears in Rie's kitchen and steals a tray of cookies.
What will happen between these two young girls? Will friendship blossom between them, or perhaps something more?
That is up to the reader to decide - but rest assured, no matter what, there will lots and lots of delicious food!

From Ebi-Hime, creator of "Asphyxia" and "The Way We All Go," comes "Strawberry Vinegar" a slice-of-life story with food, cute demons, yuri, and more food.
'
A free game created by Ebi-Hime, author of Aspyhxia and The Way We ALL GO, TSSofEB is a free yuri (girls' love) game created for a game jam.

As the saying goes, dead men tell no tales. They only leave tales behind.

Toma Andrews, aged 14, has always felt like an outsider. She enjoys spending time in graveyards, and feels more comfortable among the dead than the living.
That is, until Toma meets a strange girl in her local graveyard who might be a real ghost.
The girl asks Toma if she will stay for a while and listen to a story. A story about a girl called Emmeline Burns, who died a tragic death back in 1851.
Toma is compelled to listen, but at the same time, she feels uneasy. After all, what can she do? How could she ever hope to help somebody who has already died?

The game is available for free on itch and will also be free on Steam http://ebihime.itch.io/emmeline

------
Scott Green is editor and reporter for anime and manga at geek entertainment site Ain't It Cool News. Follow him on Twitter at @aicnanime.