Another manga that Oda endorsed in 2015 was cute girl does MMA series "Hanakaku - The Last Girl Standing"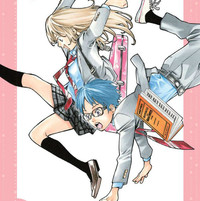 After wrapping up its 11 volume run in February, Naoshi Arakawa's Your Lie In April ended 2015 with quite the accolade. The series from Kodansha's Monthly Shōnen Magazine was named by One Piece creator Eiichiro Oda for a segment on Japanese TV as the manga he's most jealous of, explaining that it took his mind off work when crunching for deadlines and that everyone on the studio team ended up buying it on the way home.
Also adapted into a 2014-2015 TV anime, the series is introduced by Kodansha (who also handles its North American release):
A LIFE IN MONOTONE Kosei Arima was a piano prodigy until his cruel taskmaster of a mother died suddenly, changing his life forever. Driven by his pain to abandon piano, Kosei now lives in a monotonous, colorless world. Having resigned himself to a bland life, he is surprised when he meets Kaori Miyazono, a violinist with an unorthodox style. Can she bring Kosei back to music, and back to life?
TVでワンピース尾田栄一郎先生が嫉妬した漫画の紹介。あの尾田先生が嫉妬を⁈と期待高まり。先生が締切前に読み原稿落としかけ、グイグイ引き込むんじゃないよ!といわしめたのが新川直司先生「四月は君の嘘」。スタジオ全員すごく帰りに買う感に pic.twitter.com/zaiKkGwKxD

— ランチ (@lunch0515) December 29, 2015
一流が嫉妬したスゴい人という番組で『四月は君の嘘』が、尾田栄一郎先生が嫉妬した作品として紹介されました コミックス&電子書籍全11巻で発売中です。それにしても、話を伺ったときにはびっくりしました(月マガ シロー)

— 『四月は君の嘘』公式 (@shigatsuhakimi) December 29, 2015
Another manga that Oda endorsed in 2015 was Hanakaku - The Last Girl Standing , about a girl who developed superlative dodging abilities after years of severe bullying, and then takes up competitive mixed martial arts in high school.
There's a page to vote for its translation on Comic Zenon International.
Author Katsunori Matsui previously worked on long running Business Jump wine manga Sommelière.
ハナカク3巻明日発売です! 帯コメントはONE PIECEの尾田栄一郎先生‼︎ 花夏描いてもらっちゃいました(^O^) pic.twitter.com/mZThYJBlhP

— 松井勝法 (@MATSUKAKU) February 19, 2015
February 20, 2015
ハナカクの試し読みはこちら^^ コミックゼノンサイト→http://t.co/Icj5Vs1hOr pixivコミック→http://t.co/vHUR92AKJB ニコニコ静画→http://t.co/l1lN2Xy91j pic.twitter.com/GAanhn5ibe

— 松井勝法 (@MATSUKAKU) May 10, 2015
Now, if you really want a best-selling manga author giving a nod to surprising series, look to the blog of Attack on Titan's Hajime Isayama.
In August, he recommended Yuna Takagi's Ginga wa Kanojo Hodo ni, praising the imagination and craft of the manga about a boy who falls in love with an alien girl sent to destroy Earth, Yusuke Nomura's high school student versus giant toy fight series Dolly Kill Kill, praising its illustration, particularly its ability to convey imaginative and complex action sequences. Both run on the Manga Box digital platform.
In May, he recommended Arisa Yamamoto's Aiko no Ma-chan, which, like Attack on Titan, is rooted in adolescent fears, but approaching those emotions from an entirely different direction. Isayama praised its honest and distinctive perspective, along with its ability to capture the genuine emotions of its heroine.
That one-volume work was completed and collected with help from a crowdfunding campaign after being removed from Comic Zenon after the publisher became concerned that the manga could be considered a "harmful publication" under the "Tokyo Metropolitan Ordinance Regarding the Healthy Development of Youths."
Baka updates describes the premise:
At school, Aiko discovers that all the girls in her circle of friends have already had their first menstruation – save her. After going home to her room, she reads up on menstruation and in frustration punches herself in the uterus. This seems to "awaken" Ma-chan, Aiko's anthropomorphic vagina, who begins coughing up blood. Ma-chan introduces herself and says that she's been with her ever since birth and from now on she's going to assist in her journey into adulthood.
The next day at school Aiko tells her friend that she's now one of the gang.
------
Scott Green is editor and reporter for anime and manga at geek entertainment site Ain't It Cool News. Follow him on Twitter at @aicnanime.