Director is changed from Muck Akazawa to Tsuneyasu Motoyoshi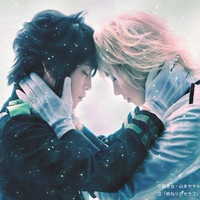 The official Twitter for the upcoming musical adaptation of the Owari no Seraph/Seraph of the End dark fantasy manga today posted a new main visual featuring Yuichiro Hyakuya and Mikaela Hyakuya holding each other, which is reenacting the famous scene from the original manga.
It is also confirmed that the original director of the musical, Muck Akazawa is replaced by Tsuneyasu Motoyoshi, the leader of theatrical group Emukichi Beat. It will be his first adaptation play based on a manga work. The script of the musical originally written by Akazawa is also rewritten by Kaori Miura, who is also currently working on the musical adaptation of the Dance With Devils TV anime. The reason for the changes is not yet known.
Seraph of the End The Musical is scheduled to be preformed 12 times at AiiA 2.5 Theater Tokyo from February 2 to 11. 7,800-yen advance tickets are now available on Lawson Ticket.
New main visual
新ビジュアル大公開! 優とミカのあの名シーンを完全再現・・・!! 本日発売の「ジャンプスクエア」でも掲載中。 本番をどうぞお楽しみに!!  #終わりのセラフ  #ジャンプスクエア pic.twitter.com/64XPjdnCHZ

— 「終わりのセラフ」The Musical (@seraph_musical) January 4, 2016
2nd main visual
1st main visual
Main cast:
Yuichiro Hyakuya: Gaku Sano (Kamen Rider Gaim)
Mikaela Hyakuya: Katsuhiro Suzuki (Tokumei Sentai Go-Busters)
Guren Ichinose: Kento Ono (Hyde/Gosei Blue in Tensou Sentai Goseiger)
Mitsuba Sangu: Karen Miyama (Momo Miyaura in A Letter to Momo)
Shihou Kimizuki: Atomu Mizuishi (Renji Yanagi in The Prince of Tennis Musical)
Yoichi Saotome: Shinichi Hashimoto (Marehiko Itsuki in The Prince of Tennis Musical)
Shinoa Hiiragi: Chihiro Kai
Asuramaru: Saya Chinen
Krul Tepes: Mariya Nagao (AKB48 Team K)
Ferid Bathory: Seijiro Nakamura (Mitsunari Ishida in Sengoku Basara 3)
Source: "Seraph of The End The Musical" official Twitter
© Takaya Kagami, Yamato Yamamoto, Daisuke Furuya/Shueisha
© "Seraph of The End" The Musical Production Committee 2016