"The Green Inferno" caused otaku to vomit, then debate audience for anime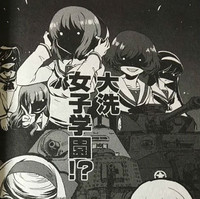 Today, Universal releases Eli Roth's cannibal homage horror movie The Green Inferno on home video in North America. This notoriously grisly and divisive film about student activists who meet a bad end in the Amazon rain-forest is still horrifying Japanese theatergoers with its gruesome theater lobby art by horror illustrator Kou Kitahara. It was originally released in Japan November 28th, and promoted a week before that. Meaning, a trailer ran in front of the November 21st release of the Girls und Panzer movie.
That caused some issues!
Specifically, Tachikawa Cinema City showed the "Red Band' (restricted version, NSFW, or in Japanese ratings parlance, R18). After Girls und Panzer fans suppressed their urge to vomit long enough, Tachikawa heard their complaints and issued an apology and replaced the trailer in future screenings with one for Persona3.
This incited a bit of online collective education about the American ratings system, and a lot of debate (gathered on Together.com) about who goes to see anime movies in theaters in general and Girls und Panzer specifically, as well as how the content of anime correlates to live action.
Questions raised, but not necessarily answered included:
• Do parents take children to see anime movies that aren't marketed to families? (that mostly wound up as a pointer to the reports of cryings kids at the Madoka Magica movies.)
• How many school age viewers go to see a movie like Girls and Panzer, and should that audience be allowed to see a trailer like Green Inferno's?
• Are older people interested enough in the subject (tanks, military) to see a movie like Girls und Panzer, and if so, would they be offended by the the Green Inferno trailer?
• If Girls und Panzer can do a tie-in with a movie like the R-rated Fury, why can't it run with a Green Inferno trailer? Where is the line there?
In other words, the trailer exposed debates about the audience for anime, especially when it's shown outside the context of personal TV.
Thumbnail from Takeshi Nogami and Takaaki Suzuki's spin-off Girls und Panzer: Ribbon no Musha, which is featured on the cover of today's issue of COMIC FLAPPER.
大洗女子が噂に尾ひれはひれついてなんか勘違いされてる外伝漫画リボンの武者 pic.twitter.com/vbZyOAf7KS

— パークさんは大洗へ帰りたい (@_hp23) January 3, 2016
COMIC FLAPPER (コミックフラッパー) 2016年 02月号:表紙『ガールズ&パンツァー リボンの武者』野上武志×鈴木貴昭 https://t.co/DVZFC0BwA8 #garupan pic.twitter.com/Tjcz6hjZON

— 雑誌チャンネル (@the4_ch) January 5, 2016
『ガールズ&パンツァー リボンの武者』大人気御礼! 特別付録「ムカデさんチーム仕様九七式軽装甲車ペーパークラフト」がついてくるフラッパー2月号、大好評発売中です! pic.twitter.com/nAB6GODnDS

— コミックフラッパー編集部 (@comic__flapper) January 5, 2016
------
Scott Green is editor and reporter for anime and manga at geek entertainment site Ain't It Cool News. Follow him on Twitter at @aicnanime.