Stream begins 1/6 at 9:30am PST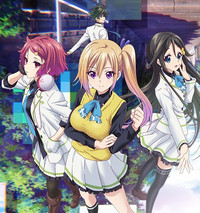 Crunchyroll continues its run of Winter simulcast additions and is proud to announce the acquisition and forthcoming simulcast of the anime series Myriad Colors Phantom World, set to premiere on Crunchyroll every Wednesday, starting January 6th at 9:30am Pacific Time. For more information, visit www.crunchyroll.com/myriad-colors-phantom-world.
Myriad Colors Phantom World comes from Kyoto Animation, the studio behind hits such as Free! – Iwatobi Swim Club and Sound! Euphonium. The show also features an all-star voice cast including Hiro Shimono (Aoba Kuronuma in Durarara!!x2 The Second Arc) as Haruhiko Ichijo, Sumire Uesaka (Sanae Dekomori in Love, Chunibyo & Other Delusions) as Mai Kawakami, Saori Hayami (Ayase Aragaki in Oreimo) as Reina Izumi, and Maaya Uchida (Yusa Nishimori in Charlotte) as Koito Minase.
About Myriad Colors Phantom World
In the near future, monstrous creatures called "phantoms" descend upon the world. Haruhiko Ichijo is a student at Hosea Academy, along with Mai Kawakami, Reina Izumi, and Koito Minase, three girls who fight these creatures. High school life proceeds as normal until a certain incident reveals the truth of their world to them.
Myriad Colors Phantom World will be available to Crunchyroll members worldwide except for Asia, Germany, Austria, Switzerland, Liechtenstein, Luxembourg, and Aldo Adige.