Stream begins 1/8 at 8:30am PST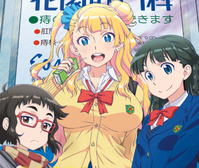 Crunchyroll is proud to announce its latest acquisition to its massive Winter simulcast lineup in Please Tell Me! Galko Chan.
About Please tell me! Galko chan
Galko, Otako and Ojou are a trio of unlikely friends in high school with three very different perspectives. Each episode embarks on a day in the life of a trendy girl, an otaku, and a lady, as they discuss their "girl problems."
This series is helmed by Hayate the Combat Butler director Keiichiro Kawaguchi, and features the voice talent of Azumi Waki (Eri Higuchi in Anime De Training! Ex) as Galko, Minami Takahashi (Megumi Tadokoro in Food Wars! Shokugeki no Soma) as Ojou, and Miyu Tomita (Himouto! Umaru-chan) as Otako.
Please tell me! Galko chan will be available to Crunchyroll members worldwide except for Asia.