They've also posted English clips from the recently released "Riddle Story of Devil"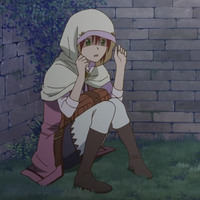 As FUNimaiton begins presenting the English dub of Snow White with the Red Hair's first season, and prepairs to feature the second cour in their winter 2016 line-up, the distributor has posted an "Meet Zen" clip of the show's English audio version.
Cast & Crew
| | |
| --- | --- |
| Shirayuki | Brina Palencia |
| Zen Wisteria | Josh Grelle |
| Prince Raj | Todd Haberkorn |
| Mitsuhide | Ian Sinclair |
| Kiki | Jamie Marchi |
| Obi | Austin Tindle |
| Garak | Rachel Robinson |
| Ryu | Mikaela Krantz |
| Izana Wisteria | Eric Vale |
| Lord Haruka | Christopher R Sabat |
| Sakaki | Rob McCollum |
| Atri | Micah Solusod |
| Kihal Toghrul | Bryn Apprill |
| Lord Brecker | Duncan Brannan |
| —- | —- |
| ADR Director | Cris George |
| ADR Engineer | David Franco |
Synopsis:
In the kingdom of Tanbarun lives Shirayuki, an independent and strong-willed young woman. Her resourceful intelligence has led her become a skilled pharmacist, but her most defining trait is her shock of beautiful apple-red hair. Her dazzling mane gets her noticed by the prince of the kingdom, but instead of romancing her, he demands she be his concubine. Shirayuki refuses, chops off her lovely locks, and runs away to the neighboring kingdom of Clarines. There, she befriends a young man named Zen, who, SURPRISE, is also a prince, although with a much better temperament than the previous one. Watch as Shirayuki finds her place in the new kingdom, and in Zen's heart.
They've also posted English clips from the recently released Riddle Story of Devil.
Based on the manga from Yun Kouga, creator of the beloved manga Loveless, Riddle Story of Devil sends twelve female assassins to a prestigious boarding school to compete against each other in a secret killing game. The winner will be granted anything her heart desires, but only one girl can come out on top.

The mission is simple: send fellow student Haru Ichinose to an early grave. The task should be easy for heartless assassin, Toukaku Azuma – but everything changes when she finds herself strangely drawn to her naive target. Her decision to use her lethal skills to keep her new friend alive will raise the stakes of the game and push the girls closer together as the other beauties threaten to tear them apart.
Tokaku Azuma: Morgan Berry
Haru Ichinose: Alexis Tipton
Shiena Kenmochi: Anastasia Munoz
Otoya Takechi: Colleen Clinkenbeard
Haruki Sagae: Carli Mosier
Isuke Inukai: Jamie Marchi
Kouko Kaminaga: Clarine Harp
Suzu Shuto: Michelle Rojas
Chitaru Namatame: Monica Rial
Hitsugi Kirigaya: Natalie Hoover
Mahiru/ Shinya Banba: Mikaela Krantz
Sumireko Hanabusa: Bryn Apprill
Nio Hashiri: Lauren Landa
Director: Caitlin Glass
------
Scott Green is editor and reporter for anime and manga at geek entertainment site Ain't It Cool News. Follow him on Twitter at @aicnanime.