Seven-member unit's 2nd single hits stores February 10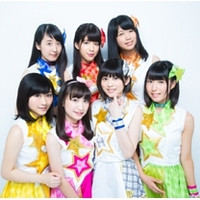 On the same day with the anime's TV premiere in Japan, Comic Earthstar's official YouTube channel posted a music video for "Yumeiro Toridori Parade♫," the OP theme song for the TV anime adaptation of Sui Futami's comedy manga series Mahou Shoujo Nante Mouiidesukara. (I've Had Enough of a Magical Girl.), performed by seven-member voice actress unit Earth Star Dream.
The unit was formed by the winners of the 1st National Seiyu Grand Prix held in 2014, then made their major debut with 1st single "Tottemo Safari" (Teekyu 6th season theme song) in November 2015. Their 2nd single "Yumeiro Toridori Parade♫" is set for a release in Japan on February 10. To promote the release, they will hold a mini concert and handshaking event at Akiba Sofmap 1st Store in Tokyo on February 13.
"Yumeiro Toridori Parade♫" MV
"Mahou Shoujo Nante Mouiidesukara." CM
Anime main visual
キーヴィジュアル・キャスト・主題歌アーティスト発表! 葉波ゆずか:藤田茜 ミトン  :若井友希 坂上ちや :大森日雅 だいや  :田中美海 篠木真冬 :伊藤美来 ポチ   :西明日香 主題歌  :アース・スター ドリーム pic.twitter.com/RaNcHXrt4U

— 魔法少女なんてもういいですから。公式 (@mouii_desukara) 2015, 11月 11
Main Voice Cast:
Yuzuka Hanami: Akane Fujita (Yukari Mizumoto in The [email protected] Cinderella Girls)
Mitten: Yuuki Wakai (Leona West in PriPara)
Chiya Sakagami: Nichika Omori (Yurika Nijino in Invaders of the Rokujyoma!?)
Daiya: Minami Tanaka (Hana N. Fountainstand in Hanayamata)
Mafuyu Shinoki: Miku Ito (Nanako Usami in Locodol)
Pochi: Asuka Nishi (Shinobu Omiya in Kin-iro Mosaic)
Main Staff:
Director: Kazuhiro Yoneda (Yona of the Dawn)
Series Composition: Kazuyuki Fudeyasu (Monster Musume, Is The Order a Rabbit?)
Scenarios: Kazuyuki Fudeyasu, Momoko Murakami (Pretty Rhythm, Locodoll)
Character Design/Chief Animation Director: Kazuaki Shimada (Encouragement of Climb)
Sound Director: Yukio Nagasaki (Love Live!)
Music Production: F.M.F (K-ON!)
Music: Masato Nakayama (Faylan, Yui Horie, Milky Holmes, Mamoru Miyano)
Anime Production: PINE JAM
(C) EARTH STAR Entertainment