Bonne soirée !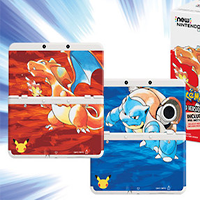 Retrouvez aujourd'hui : Pokémon, Black Bullet, Love Live!, Pacific Rim ainsi que Sonic et Mario aux jeux olympiques de Rio !
Des nouvelles Nintendo 2DS pour les 20 ans de Pokémon
The Pokémon Company International a annoncé aujourd'hui que des nouvelles Nintendo 2DS seront commercialisées, en même temps que la sortie des versions numériques de Pokémon Rouge, Bleu et Jaune pour les 20 ans de la franchise.
Ces consoles seront disponibles en packs, dès ce 27 février. Une planche d'autocollants et un code de téléchargement pour un thème Pokémon seront également inclus, en plus d'une des trois jeux classiques qui sera défini selon la couleur de la console. Des coques pour New Nintendo 3DS à l'effigie de Dracofeu et Tortank seront aussi disponibles à la vente.
La suite de Pacifim Rim toujours d'actualité
Le réalisateur Guillermo del Toro a fait savoir par un tweet ce lundi que la suite de son film Pacific Rim sorti en 2013 était toujours en cours de production.
Pac Rim 2 cancelled? Don't believe everything you read. It's still going and I'll remain w it in one way or another!

— Guillermo del Toro (@RealGDT) January 11, 2016
Universal avait enlevé le film de son planning de sorties, mais a insisté avec Legendary Entertainment en septembre sur le fait que cette suite était toujours d'actualité, avec une sortie prévue en août 2017 au lieu d'avril 2017.
Sortie : ANN
Des nouvelles figurines Love Live! sur Banpresto
Banpresto proposera des nouvelles figurines des membres de µ's comme prix à gagner dans les salles d'arcades pour 3 mois consécutifs, de la mi-janvier à fin mars. La série de figurines nous présente les filles qui s'offrent une détente après les cours !
Honoka (mi-janvier)
Umi (mi-janvier)
Kotori (fin janvier)
Hanayo (fin janvier)
Rin (mi-février)
Maki (mi-février)
Nozomi (fin mars)
Eri (fin-mars)
Nico (fin mars)
Source : CR US
La date de sortie de Mario et Sonic aux jeux olympiques de Rio annoncée pour l'Amérique du Nord
Mario et Sonic aux jeux olympiques de Rio sortira le 18 mars 2016 en Amérique du Nord sur Nintendo 3DS, une version Wii U du jeu sera également proposée plus tard dans l'année. Ils seront tous les deux compatibles avec les Amiibos.
Source : CR US
Enju Aihara de Black Bullet chez PLUM
PLUM, le fabricant de la figurine d'Enju Aihara de Black Bullet, vient de dévoiler les photos de son prototype colorié ! La voici, version Tenchuu Girls :
Source : Ruru-Beryz