10 episodes weekly for Free members, complete series for Premium beginning at 3PM PST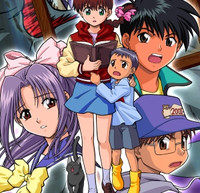 Crunchyroll is proud to announce the addition of another future classic anime series in Ghost Stories to its streaming catalog. The series which ran from 2000-2001 in Japan is best known here for its English dub originally recorded by ADV Films in 2005, which added more of a comedic flare for the story instead of doing a straight adaptation of the Japanese script.
The complete series will be available today for Premium members with both sub and English dub options, while Free members will be able to watch the first 10 episodes starting today and the second set of 10 episodes next week. The series will be available to members in the U.S., Canada, United Kingdom, Ireland, Australia and New Zealand.
Synopsis
When nearby construction disturbs a spiritual resting place, it's disgruntled denizens so what any supernatural being would do after a rude awaking - they terrorize the local school.

And that means it's up to a scruffy band of young ghost hunters to expel their satanic schoolmates before everyone gets sent to permanent detention! Meet Satsuki, her crybaby brother, the resident class stud, the school nerd and "psychical researcher," a born again beauty, and a resentful, demon-possessed cat in the funniest, scariest school you've ever enrolled in.