Yusuke Yamamoto (Encouragement of Climb)-directed series will premiere this April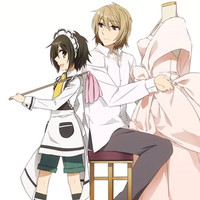 The official website for the upcoming TV anime adaptation of Ototachibana's Shonen Maid comedy manga series today announced its three main voice cast: Natsumi Fujiwara (a member of Tekkadan in Mobile Suit Gundam: Iron-Blooded Orphans) as the protagonist Chihiro Komiya, Nobunaga Shimazaki (Haruka Nanase in Free!) as his uncle Madoka Takatori and Tomoaki Maeno (Shu Kuga in Star-Myu) as Madoka's secretary Keiichiro Shinozaki.
The 8-Bit-produced adaptation will premiere on TBS and BS-TBS in Spring of 2016. The three VAs are scheduled to join the advance screening event for the first episode of the anime (along with that of Haven't You Heard? I'm Sakamoto) to be held at Yurakucho Asahi Hall in Tokyo on March 12.
Yusuke Yamamoto, known as the director of Sgt Keroro (1st and 2nd season), Aquarion EVOL, Encouragement of Climb and Walkure Romanze, serves as the director alongside character designer Kana
Ishida (The Irregular at Magic High School, Wakaba Girl) and series composition writer Yoshiko Nakamura
(Hiiro no Kakera, Gekkan Shoujo Nozaki-kun). The manga has been serialized in Enterbrain's monthly
magazine B's-LOG COMIC since its 4th issue published in 2008, and currently eight tankobon volumes are
available. The story centers on an elementary school boy Chihiro Komiya, who works as a maid at his uncle
Madoka Takatori's gorgeous house after his mother died.
Chihiro Komiya (CV: Natsumi Fujiwara)
【キャラクター紹介①】 小宮千尋(cv:藤原夏海) お嫁にしたい男子No.1(!?)の本作主人公!家事が大好きな少年メイドです♪ (続く) #少年メイド pic.twitter.com/rENPFct0kf

— 『少年メイド』アニメ公式 (@ShonenMaid) January 15, 2016
Madoka Takatori (CV: Nobunaga Shimazaki)
【キャラクター紹介②】 鷹取 円(cv:島﨑信長) 千尋の叔父。のんびり屋でズボラ、部屋も散らかし放題。。。一日中家にいるのでニートと思いきや… (続く) #少年メイド pic.twitter.com/S3AKuRridv

— 『少年メイド』アニメ公式 (@ShonenMaid) January 15, 2016
Keiichiro Shinozaki (CV: Tomoaki Maeno)
【キャラクター紹介③】 篠崎桂一郎(cv:前野智昭) 円の秘書を務める。面倒見がいいが、見かけによらず家事が下手。 (続く) #少年メイド pic.twitter.com/AwpnYi207p

— 『少年メイド』アニメ公式 (@ShonenMaid) January 15, 2016
New main visual
【キャスト発表‼︎】 4月放送開始のTVアニメ「少年メイド」のキャストが発表! 小宮千尋:藤原夏海 鷹取 円:島﨑信長 篠崎桂一郎:前野智昭 (続く) #少年メイド pic.twitter.com/FS3REEMjwm

— 『少年メイド』アニメ公式 (@ShonenMaid) January 15, 2016
1st PV
Manga tankobon 1st and 8th volume
Source: "Shonen Maid" TV anime official website, Twitter
© Ototachibana, KADOKAWA/Shonen Maid Production Committee