Latest 7th volume with a new drama CD will be released on February 1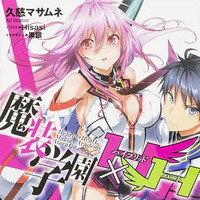 Kadokawa's light novel imprint Sneaker Bunko has confirmed that a TV anime adaptation of Masamune Kuji's Masou Gakuen HxH (Hybrid x Heart Magias Academy Ataraxia) fantasy action series is in the works. The news was also announced during the broadcast of the premiere episode of the Kono Subarashii Sekai ni Shukufuku wo! TV anime.
The author Kuji won an excellent prize in the 18th Sneaker Grand Prize in 2012, then made his professional debut with the first volume of the Masou Gakuen HxH series in January 2014. Its story centers the protagonist boy Kizuna Hida, who has a special ability to power up girls with indecent acts, and the fate of the battle against another world depends on his power. The official Twitter of the imprint describes the series' genre as "Ecstasy Battle Action."
The series' latest 7th volume is scheduled to be published on February 1, and its special edition will come
with a new original drama CD. The series already gotten a drama CD adaptation released independently
last March. It featured Ayaka Kimura as Aine Chidorigafuchi, Hikaru Isshiki as Yurishia Farandole, Ichigo
Momoi as Hayuru Himekawa, and Sumika Koseki as Silvia Silkcut. The four are set to reprise their characters
in the new drama CD, but no confirmation for the upcoming TV anime.
Novel 1st and 2nd volume covers
3rd and 4th
5th and 6th
7th volume regular and special edition
Source: Sneaker Bunko
© 2016 Masamune Kuji, Hisasi/Kadokawa