2nd single "Shining Sky" hits stores February 10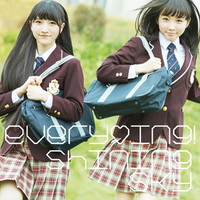 King Records has posted a 90-second short version music video for "Shinning Sky," the upcoming 2nd single of two-member voice actress idol unit everying!, consisting of Ibuki Kido and Erii Yamazaki. The song is used as the OP theme for the ongoing TV anime adaptation of Ruruu Minase's four-panel comedy manga Ooya-san wa Shishunki! (The Landlady is in Puberty!), in which Yamazaki voices Mayu Ueno and Ibuki Kido plays Yuki Miyamura. The CD single will be released in three editions on February 10.
Ooya-san wa Shishunki! is now available to Crunchyroll members worldwide except for Asia.
2nd single "Shining Sky" short MV
First press limited edition CD jacket
Special edition
Regular edition
Latest artist photo
---
1st single "Colorful Story" short MV (May 13, 2015 release)
"Trial Edition" single "Yumeiro Gakuin Kouka" short MV (October 8, 2014 release)
Source: everying! official website
© 2016 KING RECORD CO., LTD.