Advance entries for the tickets start accepting today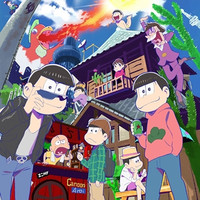 On January 29, the official release day of its first DVD/Blu-ray volume, special screening events for the ongoing TV anime Osomatsu-san/Mr. Osomatsu, the third TV anime adaptation of Fujio Akatsuka's classic gag manga in the 1960s, Osomatsu-kun, will be held at selected six theaters in Japan. The lineup includes the anime's newly-produced "3.5th" episode, which is contained in the disc instead of the controversial original 1st episode.
The 1st episode "Fukkatsu! Osomatsu-kun" was aired in Japan on October 6, 2015, and arouse much controversy due to its too many off-color humor and audacious parodies of popular manga, anime, game and films. Under severe criticism, the anime's production committee immediately decided that it would not be included in the first disc and not be released in its original form for good.
The event will also show the first two episodes of the "Short Film" series, which will come with each disc,
and two TV anime episodes to be chosen by the fans' online votes. Advance entries for the 1,800-yen
tickets will be accepted at Lawson Ticket from today to 23:59 on January 20 (JST).
1st Blu-ray disc jacket
【PKG追加情報①】「おそ松さん」第一松(1/29発売予定)の追加映像特典として、ショートフィルムシリーズが収録されます♪詳細はコチラ⇒https://t.co/sS8ORc0J5F #おそ松さん pic.twitter.com/CNX3ybV2ph

— TVアニメ「おそ松さん」公式アカウント (@osomatsu_PR) December 21, 2015
"Osomatsu-san" main visual
Source: "Osomatsu-san" TV anime official website, via Comic Natalie
© Fujio Akatsuka/Osomatsu-san Production Committee