At for the character is provided by BUNBUN, who certainly appears to be the same person as SAO's abec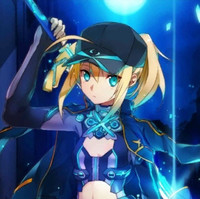 Another joke has found new life in smartphone RPG Fate/Grand Order. Type-Moon has a history of going all-out for their April Fool's gags, and in 2013 they presented Saint Seiya mini-visual novel Back Alley Satsuki - Chapter Heroine Sanctuary, in which Bronze Heroines Satsuki, Riesbyfe, Sion, and Ciel (from Tsukihime), along with the Saber-hunting "Mysterious Heroine X," climbed through the twelve palaces of the Gold Heroines. Now Ms X is back as an Assassin class servant for F/GO in time for the "Saber Wars" event.
Art for the character is provided by BUNBUN. According to Sword Art Online illustrator abec, BUNBUN and abec are neighbors, and aren't the same person despite what style similarities suggest. According to Kadokawa's Taiwan branch, they are the same person. BUNBUN also has a history of subbing for abec at events, possibly owing to the fact abec is (or has said they are) a girl who was in high school when SAO debutted. BUNBUN is also certainly very active promoting abec's work online too.
"Saber Wars: The Caliburn Awakens" features a limited gacha 5★ (SSR) Mysterious Heroine X, along with a chance to obtain 4★ (SR) Artoria Pendragon [Lily].
Featured servants include the game's previously introduced Sabers, Altera, Artoria Pendragon, Artoria Pendragon [Alter] (Saber), Artoria Pendragon [Lily], Okita Souji, Gaius Julius Caesar, Siegfried, Gilles de Rais (Saber), Chevalier D'Eon, Mysterious Heroine X, Nero Claudius, Fergus Mac Roich, & Mordred.
Craft Essences include
Crimson Fortress of Shadow
FGO期間限定イベント セイバーウォーズにて概念礼装「紅蓮なり影の国」を描かせていただきました!(差分っぽいものも上げておく) #FGO pic.twitter.com/En2q03TRwN

— ネコタワワ (@nekotawawa) January 19, 2016
Mikotto! Bride Training
Trueshot
Purely Bloom
Star of Artoria
FGOの新イベント、セイバーウォーズ で概念礼装「アルトリアの星」のイラストを描かせていただきました! 「リリィよ、セイバーの星を目指すのだ!」的なアレ 依頼指定にはなかったマシュをこっそり描いたヽ(´▽`)ノ #FGO pic.twitter.com/X2OGFDcU0l

— 石田あきら@まおゆう16巻10/26発売 (@Akira_Ishida) January 19, 2016
BUNBUN previously worked with Type-Moon, illustrating their light novel Fire Girl, as well as
Saber Alter from Fate/unlimited codes PORTABLE in TYPE-MOON 10th Anniversary Phantasm.
Fate/kaleid liner PRISMA☆ILLYA Episode 2 end card.
Gilgamesh in Fate/Extra CCC Extra Garden.
Character illustrator for Alexander in Fate/Grand Order.
That Fate/Grand Order Rider is Alexander as a young Macedonia prince, voiced by Maaya Sakamoto
via Type-Moon Wiki Fate/Grand Order Wiki, Fate/Grand Order Cirnopedia and Grand Order Reddit
------
Scott Green is editor and reporter for anime and manga at geek entertainment site Ain't It Cool News. Follow him on Twitter at @aicnanime.