All-new feature film hits Japanese theaters April 23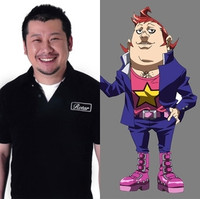 The official website for the upcoming Yu-Gi-Oh! The Dark Side of Dimensions film has announced the four voice cast for the members of "Kudaraki Corps," who call themselves as "The Strongest Thugs." 43-year-old Japanese comedian Kendo Kobayashi is cast as the leader of the team, and the three members of comedy group Jungle Pocket voice his henchmans. While Kobayashi has experiences of voice acting in some anime including Berserk: The Golden Age Arc I - The Egg of the King (2012/as Bazuso), this is the first time for the Jungle Pocket members to play anime characters.
The Satoshi Kuwahara (Yu-Gi-Oh! Zexal)-directed film will be released in Japan on April 23. The original manga creator Kazuki Takahashi serves as executive producer and provides the original character designs and screenplay.
Kendo Kobayashi/Kudaraki
Jungle Pocket/"Kudaraki Corps" members
2nd teaser
Poster visual
Main Voice Cast:
Yugi Mutoh: Shunsuke Kazama
Kaiba Seto: Kenjiro Tsuda
Katsuya Jounouchi: Hiroki Takahashi
Anzu Mazaki: Maki Saito
Hiroto Honda: Takayuki Kondo
Ryo Bakura: Rica Matsumoto
Mokuba Kaiba: Junko Takeuchi
Aigami: Kento Hayashi
Sera: Kana Hanazawa
Mani: Satoshi Hino
Source: "Yu-Gi-Oh! The Dark Side of Dimensions" official website via: Movie Natalie
© Kazuki Takahashi, Studio Dice/Movie Yu-Gi-Oh! Production Committee 2016