Advance sales of the Blu-ray and streaming will start on the same day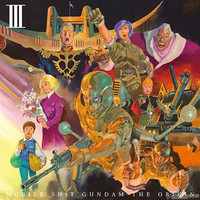 The Mobile Suit Gundam franchise's official portal site Gundam.Info today announced that Mobile Suit Gundam: The Origin III Akatsuki no Houki (Dawn of Rebellion) will be screened at 15 selected theaters across Japan for a limited time of two weeks from May 21. It is the third chapter of the four-episode anime adaptation of Yoshikazu Yasuhiko's Gundam The Origin manga inspired by the first Gundam TV series aired in Japan from 1979 to 1980. The episode's advance pay streaming will also start simultaneously.
A limited number of the Collector's Edition Blu-ray of the episode will be sold at the price of 10,000 yen at the theaters. The limited edition disc will be also available on Bandai Visual's official online store Bandai Visual Club and its branch in Premium Bandai, and will be delivered on May 28. Pre-orders will be accepted from today to April 18.
"Mobile Suit Gundam: The Origin III Akatsuki no Houki" Collector's Edition Blu-ray
Regular edition DVD and Blu-ray
Japanese trailer
English trailer
Source: GundamInfo
© Sotsu/Sunrise