2nd "Ranma 1/2" item from the action figure line will be shipped in June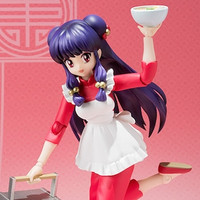 Following the upcoming Ranma Saotome to be released in Japan next week, Bandai has added a new action figure of Shampoo, one of the heroines in Rumiko Takahashi's popular comedy manga series Ranma 1/2, in its S.H.Figuarts line for a June 2016 release. More details including its pre-order start date will be announced shortly.
The 130mm-tall Ranma Saotome figure will be released on January 30 at the price of 5,184 yen.
Source: Tamashii Web
© Rumiko Takahashi/Shogakukan