Directed by Nobuhiro Kondo (Sergeant Frog, Jewelpet MagicalChange)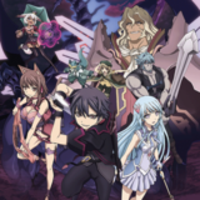 The official website and Twitter for the upcoming TV anime adaptation of Gree's card battle social game Seisen Cerberus (Holy War Cerberus), titled Seisen Cerberu: Ryukoku no Fatalité, (Holy War Cerberus: Fatalité of Dragon Time), open today, announcing its main staff and voice cast. The popular RPG has been offered by Gree since April 2011.
The TV anime is a new collaboration project by Gree, TV Tokyo, China's iQIYI and Medialink Entertainment Limited. Genco (Monster Musume, Prison School) produces the animation, while Bridge (Sergeant Frog, Nobunagan) works on anime production. After streamed on iQIYI, one of the largest streaming sites in China in March, it is scheduled to premiere on TV Tokyo and its affiliates in April. The Chinese edition of the game produced by iQIYI will be also available in the same month.
Main Visual
---
Main Staff:
Director: Nobuhiro Kondo (Sergeant Frog, Jewelpet MagicalChange)
Assistant Director: Mana Uchiyama (Detective Conan: Quarter of Silence)
Series Composition: Hiroshi Oonogi (Fullmetal Alchemist: Brotherhood)
Character/Prop Designer: Tsuyoshi Tougetsu (Superior Defender Gundam Force)
Chief Animation Director: Isamu Fikushima (Persona 3 The Movie), Yoshinori Ideno (Fate/kaleid liner Prisma Illya)
Creature Action Director: Kenichi Takase (Gundam Reconguista in G)
Art Director: Kouki Nagayoshi (Sengoku Musou)
Music: Hideakira Kimura (Lance N' Masques), Nobuaki Nobusawa (Dagashi Kashi)
Music Production: Pony Canyon
Sound Production Tohoku Shinsha
Anime Production Bridge
Produce: Children's Playground Entertainment/Genco
---
Main Voice Cast:
Heero: Yoshitsugu Matsuoka (Kirito in Sword Art Online)
Salahto: M.A.O (Yuuri Wakasa in School-Live!)
Erin: Maaya Uchida (Syaro Kirima in Is the Order a Rabbit?)
Guillou: Taiten Kusunoki (Optimus Prime in Transformers: Robots in Disguise)
Tommitte: Arisa Ogasawara (Panty in Panty & Stocking with Garterbelt)
Palpa: Yoji Ueda (Dekapan in Osomatsu-san)
Nambuco: Shunsuke Sakuya (Ishikawa in Ghost in the Shell: Arise – Alternative Architecture)
Sharisharu: Mairiya Ise (Urara Kasugano/Cure Lemonade in Yes! PreCure5)
Mumu: Manami Numakura (Saya Endoh in Dagashi Kashi)
Bachroppa: Masayuki Omoro (Sanae Kikukawa in Ace of Diamond)
---
Social game's 4th anniversary PV
Source: Gree
© 2016 GREE, Inc. /iQIYI.GREE.MEDIALINK.TV TOKYO