Studio DEEN-produced anime will premiere on February 6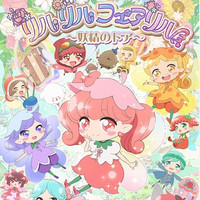 TV Tokyo has updated the official website for the upcoming TV anime Rilu Rilu Fairilu ~Yousei no Door~, announcing its five main voice cast. The fairy-featured fantasy series is based on the newly-launched collaboration franchise by Sega Toys and Sanrio, Rilu Rilu Fairilu, which is the second collaboration for them following the successful Jewelpet series.
Rilu Rilu Fairilu features little fairies called "Fairilu," who are born from "Fairilu Seed." Each Fairilu have their own "Fairilu Key" and have to find "Fairilu Door" to grow up. The story is set in their island "Little Fairilu" and centers on the protagonist Lip who is a fairy of tulip, alongside various types of fairies, such as flowers, insects, and mermaids. The Studio DEEN-produced TV anime will premiere on TV Tokyo and its affiliates on February 6.
Main voice cast:
Lip: Yumiri Hanamori (Remo in Garakowa: Restore the World)
Himawari: Aya Uchida (Kotori Minami in Love Live!)
Sumire: Rina Hidaka (Last Order in A Certain Magical Index)
Rose: Aina Kusuda (Nozomi Tojo in Love Live!)
Nozomi Hanamura: Natsuki Hanae (Asahi Kuromine in Jitsu wa Watashi wa)
Main Staff:
Director: Sakura Gojo Series
Composition: Aya Matsui (Dragon Ball GT, Tamagotchi!)
Character Design: Nishichi Yamaguchi (Magical Warfare)
Art Director: Riki Nishikura (Jewelpet MagicalChange)
Sound Production: Dax Production
Music Production: Drive
Anime Production Studio DEEN
TV Anime Main Visual
Main visual for the franchise
Main characters (Lip, Himawari/Sunflower, Sumire/Violet, Rose)
Source: "Rilu Rilu Fairilu ~Yousei no Door~" Tv aniem official website
© 2015 SANRIO SEGA TOYS