Toshio Suzuki serves as the producer of its Japanese edition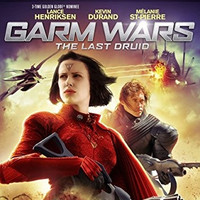 The official website for the Japanese-dub edition of internationally acclaimed anime director Mamoru Oshii's first English-language live-action film Garm Wars: The Last Druid, which is simply titled as Garm Wars in Japan, has opened, announcing its theatrical release date on May 20 and three main Japanese voice cast: Romi Park (Edward Elric in Fullmetal Alchenist) as the protagonist Khara played by Mélanie St-Pierre, Haruhiko Jyo (Don Thousand in Yu-Gi-Oh! Zexal) as Wydd by Lance Henriksen and Takanori Hoshino (Jack Atlas in Yu-Gi-Oh! 5D's) as Skellig by Kevin Durand.
Back in October 2014, the film was screened at Tokyo International Film Festival as one of its special invitation films. And the film's DVD/Blu-ray was already released in the US last month.
It is also confirmed that Toshio Suzuki, 67-year-old producer at Studio Ghibli, has served as the producer for the Japanese edition of the film, with support from Gen Urobuchi (Puella Magi Madoka Magica,
Psycho-Pass). Suzuki also designed the film's Japanese title logo.
"I wonder how Oshii thinks of this Japanese edition. I am looking forward to see his chagrined face," Suzuki
said. He was previously attached with Oshii's 2004 anime film Ghost in the Shell 2: Innocence as a producer.
The box office result of the film in Japan lowered expectations, mainly due to Suzuki's decision to hide the
fact that Innocence was a direct sequel to Oshii's 1995 film Ghost in the Shell (so most of the general audience
were not able to understand the relationship between Motoko and Batou).
Japanese title logo
US DVD jacket
via: Movie Natalie
(c)I.G Films