Reiko Yoshida (K-ON!, Girls und Panzer) works on series composition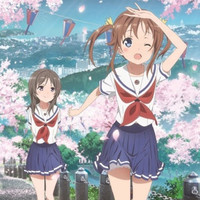 The official blog of Kadokawa/Media Factory's Monthly Comic Alive today announced that the Hai-Furi TV anime is slated for this April, posting its first visual and main staff list including the director Yu Nobuta (A Good Librarian Like A Good Shepherd). Th anime visual is also published for the first time in the magazine's March 2016 issue released today in Japan.
In addition, it is confirmed that a character CD "Watashitachi Kinenbi" (Our Memorial Day) performed by two main characters, the protagonist Akeno Misaki and her childhood friend Moeka China (their VAs have not been revealed yet), will be released on April 6. A mini drama will be included in the CD, and the anime's character designer Naoto Nakamura provided the CD jacket illustration.
Main staff:
Director: Yu Nobuta (A Good Librarian Like A Good Shepherd)
Series Coposition/Scenario: Reiko Yoshida (K-ON!, Girls und Panzer)
Original Character Design: Atto (Non Non Biyori)
Anime Character Design/Chief Animation Director: Naoto Nakamura (Mekakucity Actors, Sword Art Online II)
Color Design: Hitomi Ikeda
Background Arts: Head Work
Anime Productiom: Production IMS (The Testament of Sister New Devil, Active Raid)
Anime Visual
Comic Alive March 2016 issue
Source: Comic Alive official blog
© AIS/Maritime Safety Development Bureau