A new United Front of All Mankind offers a leader-board for Titans repulsed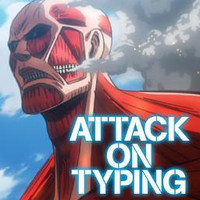 In the mists of time, at some point in between when humans were writing cuneiform and when the average second-grader who get 40 words a minute on their smartphone, typing games offered a fun way of learning layout of a keyboard. Then came Y2K, PDAs and MySpace.
Like the series' re-emerging threat, the genre is returning with Attack on Typing.
The free-to-type game is offered through Microvision and Yahoo! Japan. You need a Japanese Yahoo! ID to play. In it, use your keystrokes to advance around a boardgame-like route. As you rack-up your Titan kill score, you'll get voice cards with appearances by the likes of Yūki Kaji's Eren Yeager, Yui Ishikawa's Mikasa Ackerman and Marina Inoue's Armin Arlert. It also works on a gacha card drawing systems for bonuses.
A ChimiChara version of Zoë Hange is the latest limited guest, with Levi coming in February.
Initially launched last fall, it's being updated this week with a new United Front of All Mankind that offers a leaderboard for Titans repulsed.
Check out the official site at http://shingeki.microvision.co.jp/
via DengekiOnline and Otaku Usa
------