This sure does beat out a Paopu fruit!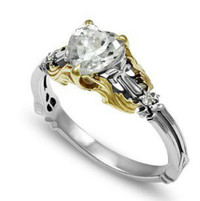 Looking to tie the knot with that special someone soon? Why not go the way of a guy named Cory who surprised his girlfriend with a custom-made engagement ring based on Kingdom Hearts?
The ring, created by Takayas Custom Jewelry, is based on the Oathkeeper keyblade, which is symbolic of Sora and Kairi's bond from the games. The ring was designed with 14K white gold with 14K yellow gold accents as well. Cody proposed to his girlfriend on New Year's Eve with this special ring, and she said yes.
This is a gorgeous creation, and you can work with the company to make your very own ring if that's something you're interested in pursuing. Check out the official blog here!
[via Siliconera]
-------
Fueled by horror, rainbow-sugar-pixel-rushes, and video games, Brittany is a freelancer who thrives on surrealism and ultraviolence. Follow her on Twitter @MolotovCupcake and check out her portfolio for more.