Veteran manga author (age 79) relates story of household squabble caused by ship-girls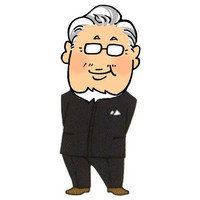 Manga author Kazuo Koike is known for many things: the creation of classic series such as Lone Wolf and Cub and Lady Snowblood, training generations of younger manga authors with his advanced level classes, offering life advice to fans, and being an inveterate otaku for DMM's Kantai Collection browser game. This last item recently caused some strife in the Koike household, as Koike himself relates:
久々に艦これをしようとしたら、前に僕がゲームを終えた時と明らかに戦況が変わっており、朝から家人と「僕のゲームに触るな!」みたいな、中学生とお母さンみたいなケンカしてる。79才なのに…、もうすぐ80才なのに…。(小池一夫)

— 小池一夫 (@koikekazuo) February 1, 2016
"So I'm playing KanColle and it had been a while since I'd last played it, but then I noticed that the battle situation in the game in front of me was obviously different from how I had left it. So the next morning I said to my family "Don't touch my game!", like I was a middle school student squabbling with his mother. Even though I'm 79 years old...going to be 80 soon..." (Kazuo Koike)
Truly, ship-girls are serious business.
Sources:
Kazuo Koike official Twitter feed
Paul Chapman is the host of The Greatest Movie EVER! Podcast and GME! Anime Fun Time.