Eine magische Addition für unser Lineup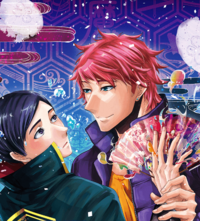 Ihr habt wochenlang gerätselt, was denn nun der finale Eintrag in unserem Lineup diesen Winter sein wird und nun können wir es euch endlich sagen: Die magischen Shounen Ai-Story This Boy is a Professional Wizard zaubert sich in unsere Herzen (und unser Programm).
This Boy is a Professional Wizard nimmt dabei den Platz von Tabimachi Lateshow in unserem Programm ein: Neue Folgen erscheinen stets freitags um 17:50 Uhr. Die zauberhafte Premiere erfolgt dabei bereits übermorgen, am 5. Februar.
Inhalt:
Chiharu ist der Zauberer, welcher für das Ministerium für Magie und Einheit für Krisenmanagement arbeitet. Seine Tage sind angefüllt mit Stress bis er in seiner Lieblingsbar Toyohi trifft und es zwischen den beiden funkt. Die Zwei beginnen eine aufblühende Beziehung, doch eines Tages muss Chiharu aufgrund eines Unfalls auf der Arbeit mehr Zeit in seinen Job stecken und distanziert sich so von Toyohi.
Die Short-Serie wird von CoMix Wave Inc. Produziert, welche besonders für 5 Centimeters per Second bekannt sind. Der Cast umfasst Yuuki Ono (Shun Isashiki aus Ace of the Diamond) als Chiharu Kashima und Taku Yashiro (Food Wars! Shokugeki no Soma) als Toyhi Ustumi.