5th single "Brand New Days" will be released on March 23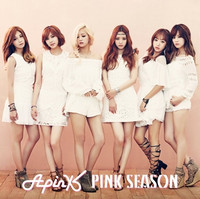 It has been confirmed that six-member Korean girls idol group Apink's 5th single song "Brand New Days" will be used as the OP theme for the upcoming TV anime Rilu Rilu Fairilu ~Yousei no Door~ to premiere on TV Tokyo and its affiliates this Saturday, February 6. It is their first original song for the Japanese market, and will be released in four editions on March 23. They were formed in April 2011, and released their 1st album in Japan, "PINK SEASON," on May 28, 2015.
The fairy-featured fantasy series Rilu Rilu Fairilu ~Yousei no Door~ is based on the newly-launched collaboration franchise by Sega Toys and Sanrio, Rilu Rilu Fairilu, which is the second collaboration for them following the successful Jewelpet series. Yumiri Hanamori, Aya Uchida, Rina Hidaka, Aina Kusuda, and Natsuki Hanae have been announced as its main voice cast.
Apink latest photo
1st single in Japan "NoNoNo" (October 22, 2014)
2nd single "Mr. Chu" (February 18, 2015)
3rd single "LUV" (May 20, 2015)
4th single "SUNDAY MONDAY" (December 9, 2015)
TV anime "Rilu Rilu Fairilu ~Yousei no Door~" main visual
via: Music Natalie
© Apink All rights reserved
© 2015 SANRIO SEGA TOYS