It will screen in more than 100 theaters across the United States and Canada on March 15 and 16, 2016.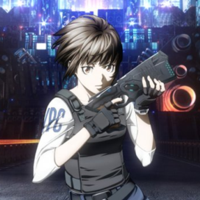 Funimation Entertainment announced the North American theatrical dates for the release of PSYCHO-PASS: The Movie. This climactic feature film is based on the 33-episode, hit TV series of the same name and marks the return of renowned script writer Gen Urobuchi, who wrote the original story for the first season of the anime series. It will screen in more than 100 theaters across the United States and Canada on March 15 and 16, 2016. Advance tickets for the movie will be available for purchase beginning February 18 at funimationfilms.com/psychopass.
Cast
Akane
Japanese: Kana Hanazawa
English: Kate Oxley
Kogami
Japanese: Tomokazu Seki
English: Robert McCollum
Ginoza
Japanese: Kenji Nojima
English: Josh Grelle
Shimotsuki
Japanese: Ayane Sakura
English: Cherami Leigh
Kunizuka
Japanese: Shizuka Itoh
English: Lindsay Seidel
Hinakawa
Japanese: Takahiro Sakurai
English: Z Charles Bolton
Shion
Japanese: Miyuki Sawashiro
English: Lydia Mackay
Sugo
Japanese: Hiroki Touchi
English: Mike McFarland
Saiga
Japanese: Kazuhiro Yamaji
English: Michael Federico
Dominator
Japanese: Noriko Hidaka
English: Stephanie Young
Nicholas Wong
Japanese: Hiroshi Kamiya
English: Jason Liebrecht
Desmond Rutaganda
Japanese: Unsho Ishizuka
English: Major Attaway
Film Synopsis
In a futuristic Japan, the Sibyl System is charged with keeping the peace. Using extensive surveillance and biological monitoring to gauge the likelihood that individuals will commit a crime, the police are able to use weapons called Dominators to remove potential criminals from the population before they become a problem. Confident with the success of the System within their own borders, the Japanese government has begun to export the technology to other countries, planning to ultimately spread the System across the globe.
When the state of SEAUn brings the Sibyl System in to test its effectiveness, it becomes a haven of peace and safety—for a time. Eventually, terrorists from SEAUn begin appearing in Japan, somehow slipping through the System's security and attacking from within. Desperate for answers, Inspector Akane Tsunemori is sent overseas to bring the terrorists to justice. But when her investigation forces her into a standoff with an old ally, will she be able to pull the trigger?
------
Scott Green is editor and reporter for anime and manga at geek entertainment site Ain't It Cool News. Follow him on Twitter at @aicnanime.