53-year-old construction worker in Fukushima Prefecture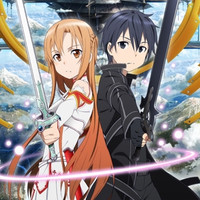 Kyodo News has reported that Hokkaido Prefectural Police's Iwamizawa Station arrested a 53-year-old male construction worker from Minamisouma-city, Fukushima Prefecture, on suspicion of copyright infringement on February 7. According to the police, the suspect sold three mouse pads using anime character images, including from Sword Art Online whose copyright is owned by Kadokawa, without permission via an internet auction site between November 2014 and June 2015.
In Japan, copyright infringement carry a maximum 10 year prison sentence and a 10 million yen (about 85,400 US dollars) fine.
Source: Kyodo News via: Nikkan Sports
"Sword Art Online" anime image (C)2014 Reki Kawahara/KADOKAWA Ascii Media Works/SAO Project
---
Related:
38-year-old Man Arrested for Posting "GATE" Episodes onto Video Sharing Site
Another 2 Chinese Arrested for Uploading "The Seven Deadly Sins" Manga
4 Men Arrested for Posting "One Piece" Latest Chapter Before Release
Man Arrested for Selling Pirated "Love Live!" Badges
Police Arrested Man Who Posted Robot Anime Videos, Theme Songs
50-Year-Old Unemployed Man Arrested for Uploading Manga via PerfectDark
High School Teacher Arrested for Uploading "Kuroko's Basketball" Manga
Unemployed Man Arrested for Uploading "Liar Game" Manga
40 People Arrested for Illegal Uploading of Anime, TV Drama in 3 Days
45-Year-Old Man Arrested for Selling Pirated Anime Stickers in Akihabara
Government Official Arrested for Posting "Gundam Unicorn" Episodes onto Video Sharing Site FC2
48-year-old Man Arrested for Uploading "Yo-Kai Watch" Anime Episode
Man Arrested for Selling One Dollar Bills with "One Piece" Images
46-year-old Unemployed Man Arrested for Posting "Maken-Ki! Two" on Video Sharing Site FC2
Two Japanese Men Arrested for Uploading "Berserk," "K-ON!" Manga
Man Arrested for Uploading "Attack on Titan" Manga 10th Volume
Man Arrested for Posting "Crayon Shin-chan" and "Black Jack" Anime on Video Sharing Site FC2
39-year-old Man Arrested for Uploading "Attack on Titan," "One Piece" TV Anime Episodes
Chinese Man Arrested for Selling Pirated Boa Hancock Figures