Takashi Miike-directed film hits Japanese theaters April 29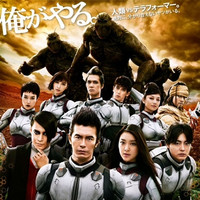 The official website for the upcoming live-action film adaptation of the Terra Formars sci-fi action manga series today updated with a new poster visual featuring all the main cast and three Terraformars. The Takashi Miike-directed film is based on the manga's Bugs 2 arc, and its theatrical release day in Japan is set for April 29, distributed by Warner Brothers Japan (Death Note, Rurouni Kenshin).
New poster visual
\ついに解禁!/
新ポスタービジュアル!

俺がやる。

人類vsテラフォーマー。絶対に、分かり合えないヤツがいる。#テラフォーマーズhttps://t.co/8t8xEQkKT5 pic.twitter.com/3SXCmMwz5k

— 映画『テラフォーマーズ』オフィシャル (@terra_movie) February 8, 2016
Teaser with English subtitles
Main Cast:
Hideaki Ito as Shokichi Komachi
Saki Takei as Nanao Akita
Tomohisa Yamashita as Jin Mito (based on Thien)
Takayuki Yamada as Ichiro Hiruma
Shun Oguri as Kou Honda
Kane Kosugi as God Lee
Rinko Kikuchi as Asuka Moriki (based on Victoria Wood)
Masaya Kato as Keisuke Doujima (based on Donatello K. Davis)
Eiko Koike as Mina Ohbari (based on Zhang Ming-Ming)
Mariko Shinoda as Ai Ohsako (based on Jaina Eisenstein)
Kenichi Takitou as Shunji Tezuka (based on Tejas Viji)
Rina Ohta as Maria Renjo (based on Maria Viren)
Rila Fukushima: Sakakibara (original character for the film)
1st main visual
Source: "Terra Formars" live-action film official Twitter
© Yu Sasuga, Kenichi Tachibana/Shueisha Inc.
© 2016 Movie "Terra Formars" Production Committee