Five-song CD will be released on March 2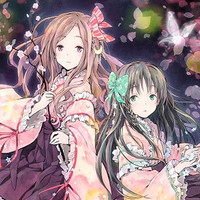 Visuals for two-member anison unit ClariS' upcoming mini album "SPRING TRACKS -Haru no Uta-" to be released on March 2 have been revealed to Japanese media. The album includes four cover songs of supercell, NIRGILIS, Takako Matsu, and Seiko Matsuda, in addition to their brand new song "Hirahira Hirara."
The first press limited edition of the spring-themed CD also comes with postcards with newly-drawn illustrations featuring the images of each songs. After the release of the album, the two will start their first tour "Yume no Ichi Page" (One Page of the Dream), to perform in Nagoya (March 6), Osaka (March 12), and Tokyo (March 19 and 20). Tickets have been available at major ticket agencies at 6,500 yen (2nd floor seats) and 7,000 yen (1st floor/standing).
1. "Hirahira Hirara" (ClariS original song)
drawn by Otohiko Takano
2. "Sayonara Memories" (supercell cover)
drawn by Taiki
3. "sakura" (NIRGILIS cover/Eureka Seven OP)
drawn by Inumoto
4. "Asu, Haru ga Kitara" (Takako Matsu cover)
drawn by NUKO-D
5. "Akai Sweet Pea" (Seiko Matsuda cover)
drawn by NOB-C
Source: Music Natalie