Compilation film with an alternate ending will open in Japan this Saturday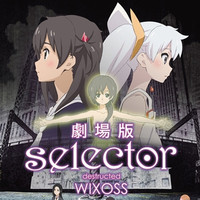 Warner Entertainment Japan has posted the first eight-minute of the upcoming anime film selector destructed WIXOSS to open on 35 screens in Japan this Saturday, February 13. The 91-minute film is basically based on the story of the TV anime series, but with two new characters, Rumi voiced by Rie Kugimiya and Sachi Togasaki by Yoko Hikasa, it will reach an alternate ending. The 1st TV anime selector infected WIXOSS was aired for 12episodes from April to June 2014, then the 2nd season selector spread WIXOSS followed with another 12 episodes four months later.
First 8-minute of "selector destructed WIXOSS"
Poster visual
Trailer
Theme song "Love your enemies" MV by Kanon Wakeshima
Source: "selector destructed WIXOSS" official Twitter
© LRIG/Project Selector MOVIE