All episodes available now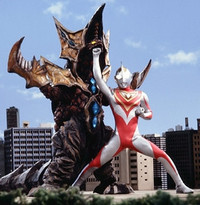 Giant monsters and alien invaders beware! Another entry in Japan's famous Ultraman series has arrived at Crunchyroll today in the form of Ultraman Gaia! Read on for full info and a chance to win a free Ultraman calendar!
All 51 episodes of Ultraman Gaia are NOW available Crunchyroll members worldwide except for Asia!
About Ultraman Gaia
At the dawn of the 21st century, the Earth faces destruction. Its savior turns out to be super-intelligent college student Gamu Takayama, who bonds with the mysterious light of Ultraman Gaia in order to stop devastating attacks by inscrutable aliens. Gaia receives the support of Earth defense organization X.I.G., but soon finds himself clashing with another mysterious giant, Ultraman Agul, who thinks protecting the Earth doesn't necessarily mean protecting humans. Ultraman Gaia tells the story of Gaia and Agul's clashing philosophies as they battle both each other and the alien entities that wish to destroy the Earth.


BONUS!!!
To celebrate Crunchyroll's new crop of Ultraman titles, we're giving away 7 special Ultraman 2016 calendars, straight from Japan! Simply comment into this thread and let us know your favorite Ultraman series to enter!
-------
Patrick Macias is editor in chief of Crunchyroll News & Otaku USA magazine.
He is also the writer of HYPERSONIC music club, Paranoia Girls, & PARK Harajuku: Crisis Team