Written by Hajime Ninomae (Puella Magi Madoka Magica novel adaptations)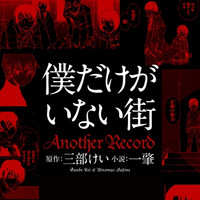 Kadokawa will release "Boku Dake ga Inai Machi: Another Record," a spin-off novel which tells the after story of Kei Sanbe's Boludake ga Inai Machi/ERASED manga and explains the real motive of the killer, in Japan on March 30. Based on Sanbe's original story, Nitroplus' Hajime Ninomae, who previously wrote the novel adaptation of the Puella Magi Madoka Magica TV anime series, works on the 232-page book. It was serialized in Kadokawa's monthly digital novel magazine Bungei Kadokawa from its November 2015 issue to March 2016 issue.
The manga will end its serialization in the April 2016 issue of Kadokawa's Young Ace to be published on March 4. A total print run of the previous seven tankobon volumes has reached 2.54 million copies.
The manga's TV anime adaptation has been aired on Fuji TV's Noitamina block and simulcasted on Crunchyroll under the English title ERASED, for the members in North America, Central America,
South America, United Kingdom, Ireland, Australia, and New Zealand. In addition, its live-action film
adaptation starring Tatsuya Fujiwara (Death Note) is set for a release in Japan on March 19.
"Boku Dake ga Inai Machi: Another Record" main visual
Manga 1st and 7th tankobon covers
Source: press release