We have a chat with Blush about the Netflix series, recording for a worldwide audience, and more!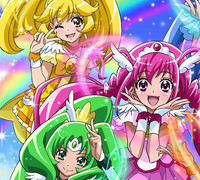 Netflix's Glitter Force is a dubbed version of the shoujo series Smile PreCure! and it's got an all-new soundtrack from girl group Blush as well as an all-new voice cast for a wider American audience.
We had a chat with the girl group about the soundtrack itself, their inspirations while recording, and their musical influences. Check out the Q&A below and be sure to have a look at Glitter Force via Netflix. You can also find more of Blush's music here!
How did you use the anime itself to decide on the tone of your music for Glitter Force?
We took a lot of inspiration from the Glitter Force characters. The series stars five best friends who transform from ordinary schoolgirls into superheroes that help save the earth from evil villains. As a group of five strong young women, we definitely felt a connection to that and think it shows in our performances.
What's it like recording a theme song for a show that so many viewers are going to tune into, being that the show is a Netflix series now?
It's really exciting to know that our music will be in front of such a big global audience – especially a younger one. Music is such a powerful outlet for kids and we love that we had the opportunity to partner with the show from the very beginning to provide girls with positive music that really celebrates "girl power."
How do you feel the Glitter Force theme compares to the original opening song?
We love the new theme song! Glitter Force is very empowering and positive, and all of the new music we recorded for the show reflects that. The theme song is upbeat, energetic and a great set-up for the action and adventure to come.
If you could choose one of the girls you relate to most, which member of the Glitter Force would you each be?
Just like Blush, Glitter Force is made up of five very different, yet very unique girls. We see a little bit of ourselves in each of the characters!
What are some of your biggest musical influences?
What's great about Blush is that we are a truly diverse group. Each of us brings our unique personal influences to the music. Our members listen to everything from modern rap and R&B to Celine Dion!
What were some of your musical inspirations when creating music for Glitter Force?
Our biggest inspiration when recording the songs for Glitter Force was the show itself. We love the fact that Glitter Force is about a group of girls coming together, amidst their differences for the greater good. The animation combined with a strong message of "girl power" is extremely important to us.
How different is the music you perform for Glitter Force than your singles like "CRZY LOVE?"
The new songs for Glitter Force are super up-beat, positive and make you want to dance, so there's not a huge difference between what we typically do for Blush. The nice thing about recording for the show is that it gives us the chance to put our music in front of a younger audience. We really hope fans of the show like it!
[via Gematsu]
-------
Fueled by horror, rainbow-sugar-pixel-rushes, and video games, Brittany is a freelancer who thrives on surrealism and ultraviolence. Follow her on Twitter @MolotovCupcake and check out her portfolio for more.