Precedent lottery for the tickets will be held till tomorrow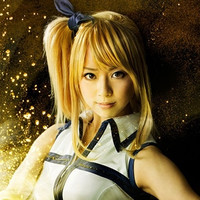 Following Natsu, Gray, Jellal, Hibiki and Lyon, the official website for Live Fantasy Fairy Tail, the upcoming stage play adaptation of Hiro Mashima's action fantasy manga Fairy Tail, has posted a visual for its first female cast, Lucy Heratfolia portrayed by 28-year-old Ayu Manaka.
Manaka entered the Takarazuka Music School, a highly competitive all-female training school, in 2003, and graduated in 2005. Upon graduation, she was placed in the Takarazuka Revue's Snow Troupe. After performing as its musume-yaku for nine years, she left the Revue in 2014, then made an agency contract with Watanabe Entertainment in the following year. She is also cast as Mitamun in the forthcoming musical adaptation of Chieko Hosokawa's long-running shoujo manga Crest of the Royal Family to be performed in August.
【ライブ・ファンタジー「FAIRY TAIL」ビジュアル解禁第6弾!!】
愛加あゆさん演じる<ルーシィ・ハートフィリア>です‼︎

◼︎抽選先行も実施中!https://t.co/iSYnjWlS4L (明日まで!)#フェアステ pic.twitter.com/NS06ZWg8sa

— 舞台「FAIRY TAIL」公式 (@fairytailstage) February 16, 2016
Live Fantasy Fairy Tail is scheduled to perform 16 times at Sunshine Theater in Ikebukuro, Tokyo, from
April 30 to May 9. 7,800-yen advance tickets will go on sale on February 28. Precedent lottery for the
tickets will be held on Lawson Ticket till 23:59 tomorrow.
Shuto Miyazaki as Natsu Dragneel
ライブ・ファンタジー『FAIRY TAIL』 ビジュアル解禁、第1弾!! <ナツ・ドラグニル>です!!! https://t.co/phOE6OyTbu pic.twitter.com/NVeXO1Lpms

— 舞台「FAIRY TAIL」公式 (@fairytailstage) January 20, 2016
Atsushi Shiramata as Gray Fullbuster
【ライブ・ファンタジー「FAIRY TAIL」ビジュアル解禁第2弾!!】
大変お待たせいたしました!
白又敦さん演じる、<グレイ・フルバスター>です!! #フェアステhttps://t.co/phOE6OyTbu pic.twitter.com/yZoGPmSJth

— 舞台「FAIRY TAIL」公式 (@fairytailstage) January 30, 2016
Hirofumi Araki as Jellal Fernandez
【ライブ・ファンタジー「FAIRY TAIL」ビジュアル解禁第3弾!!】
大変お待たせいたしました!
荒木宏文さん演じる、<ジェラール・フェルナンデス>です!! #フェアステhttps://t.co/phOE6OyTbu pic.twitter.com/jlaQUIQz1t

— 舞台「FAIRY TAIL」公式 (@fairytailstage) 2016, 2月 3
Kento Ono as Hibiki Leytis
【ライブ・ファンタジー「FAIRY TAIL」ビジュアル解禁第4弾!!】
大変お待たせいたしました! 小野健斗さん演じる、<ヒビキ・レイティス>です!!  #フェアステhttps://t.co/phOE6OyTbu pic.twitter.com/DLNy1X1VSN

— 舞台「FAIRY TAIL」公式 (@fairytailstage) 2016, 2月 8
Ren Ozawa as Lyon Bastia
【ライブ・ファンタジー「FAIRY TAIL」ビジュアル解禁第5弾!!】
大変お待たせいたしました!小澤 廉さん演じる、<リオン・バスティア>です!! #フェアステhttps://t.co/phOE6OyTbu pic.twitter.com/PKeVNjY2Ru

— 舞台「FAIRY TAIL」公式 (@fairytailstage) February 12, 2016
Source: "Live Fantasy Fairy Tail" official Twitter
© Hiro Mashima/Kodansha
© "Fairy Tail" Stage Play Production Committee