Kazuyosho Kumakiri (Bakugyaku Familia)-directed film will open this summer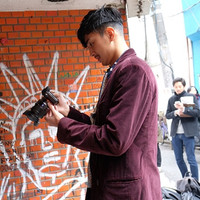 Following the 15-second teaser for the upcoming live-action TV drama and film adaptation of the Dias Police ~Ihou Keisatsu~ manga series created by Richard Woo (story) and Shinichi Sugimura (arts), Toei has also posted its 50-second behind-the-scenes clip, revealing the teaser was filmed by the leading actor Shota Matsui himself.
Behind-the-scenes clip
Teaser
The manga was serialized in Kodansha's Morning from 2006 to 2009, then compiled in 15 tankobon volumes.
30-year-old Shota Matsuda (Hiroshi Tanaka in Afro Tanaka) is cast as the protagonist Kubozaka in both adaptations.
Kazuyoshi Kumakiri (Bakugyaku Familia), Masanori Tominaga (Rolling), Mogi Katsuhito (The Next Generation
-Patlabor- assistant director), and Tetsuya Mariko (Yellow Kid) are attached to direct the 10-episode TV drama
series to premiere on TBS/MBS' "Dramaism" midnight programming block in April. Then Kumakiri directs the
feature film alone for a summer 2016 release.
Manga 1st and 15th tankobon volume covers
via: Movie Natalie