Advance screening event will be held on March 20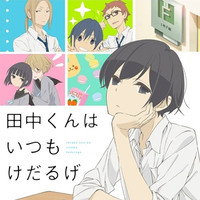 The official website for the upcoming TV anime adaptation of Nozomi Uda's Tanaka-kun wa Itsumo Kedaruge (Tanaka-kun is Always Idly) web manga today updated with a new main visual and announced its nine voice cast. 26-year-old Kensho Ono, best known as Tetsuya Kuroko in the Kuroko's Basketball anime series, is cast as the title character Tanaka. The TV anime will premiere on Tokyo MX, MBS, and other stations in Japan this April.
It is also announced that an advance screening event for its first two episodes will be held at Shinjuku Piccadilly in Tokyo at 19:30 on March 30. Five VAs from the anime: Kensho Ono (Tanaka), Yoshimasa Hozoya (Ohta), Natsumi Takamori (Miyano), Kotori Koiwai (Shiraichi), and Ayaka Suwa (Echizen) are scheduled to join for a talk show. Pre-reservations for the 3,000 yen ticket will be accepted from 10:30 am on February 20. All audience will receive an B2-size promotional poster.
Mian visual
【2/18発表最新情報1】キービジュアルが完成しました。けだるい田中とその周りに集まる個性的な面々のにぎやかな様子が1枚にぎゅっと詰まった、カラフルなイラストになりました。 #たなけだ https://t.co/5ZUZ7v2UDK pic.twitter.com/6ukydDQD0J

— TVアニメ「田中くんはいつもけだるげ」 (@tanaka_anime) February 18, 2016
Main voice cast:
Tanaka: Kensho Ono (Tetsuya Kuroko in Kuroko's Basketball)
Ohta: Yoshimasa Hozoya (Asahi Azumane in Haikyu!!)
Miyano: Natsumi Takamori (Miku Maekawa in The [email protected] Cinderella Girls)
Shiraishi: Kotori Koiwai (Renge Miyauchi in Non Non Biyori)
Echizen: Ayaka Suwa (Tokaku Azuma in Riddle Story of Devil)
Rini: Aoi Yuuki (Madoka Kaname in Puella Magi Madoka Magica)
Saya: Nao Touyama (Puff in Go! Princess PreCure)
Shimura: Kazuyuki Okitsu (Gunzo Chihaya in Arpeggio of Blue Steel -Ars Nova-)
Kato: Yuichi Iguchi (Hikaru Akatsuki in Marvel Disk Wars: The Avengers)
【2/18発表最新情報4】キャラクター設定を公開しました。9人勢揃いです。 #たなけだ https://t.co/5ZUZ7v2UDK pic.twitter.com/GGaI4DHBa4

— TVアニメ「田中くんはいつもけだるげ」 (@tanaka_anime) February 18, 2016
,
Teaser
Main staff:
Director: Shinya Kawatsura (Kokoro Connect, Non Non Biyori)
Series Composition: Akemi Omode (Kyo Kara Maoh!, Tales of the Abyss)
Character Design: Haruko Iizuka (Little Busters!, School-Live!)
Art: Kusanagi
Music: Hiromi Mizutani (Non Non Biyori, Shomin Sample)
Anime Production: Silver Link (Anti-Magic Academy: The 35th Test Platoon, Non Non Biyori)
Source: "Tanaka-kun wa Itsumo Kedaruge" TV anime official website
© Nozimi Uda, Square Enix/Production Committee is Always Idly