Directed by Kunihisa Sugishima (Yu-Gi-Oh! Duel Monsters, Beyblade)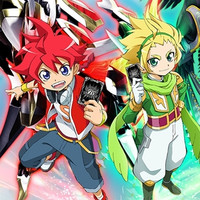 Following the announcement for the main voice cast, the official website for Bandai's trading card game series Battle Spirits, has posted a four-minute PV for its upcoming 8th TV anime series Battle Spirits: Double Drive, introducing its main staff.
56-year-old Kunihisa Sugishima, best known for his directorial works for Yu-Gi-Oh!: Duel Monsters (2000-2004) and Beyblade: Metal Fusion (2009-2012), is attached to direct for BN (Bandai Namco) Pictures (Gintama, Sergeant Frog), alongside series composition writer Katsumi Hasegawa (Battle B-Daman, Beyblade: Metal Fusion). Manga artist Naoki Iwamoto, known for his magico serialized in Shueisha's Weekly Shonen Jump in 2011-2012, provides original designs for the main characters, and Yoshimori Yumoto (Battle Spirits: Burning Soul) designs the anime characters.
Battle Spirits: Double Drive will premiere on TV Tokyo and its affiliates in Japan on April 6, then on BS
Japan one week later. And its manga adaptation illustrated by Masato Ichishiki will be serialized in Shueisha's
bimonthly kids manga magazine Saikyo Jump from its May 2016 issue.
PV
Main Voice Cast:
Shunta Mogami: Makoto Koichi (Tsukasa Kisaragi in Nurse Witch Komugi R)
Yoku Albatrosa: Mutsumi Tamura (Ride Mass in Mobile Suit Gundam: Iron-Blooded Orphans)
Eto Etosinmori the Eight: Sawako Hata (Suzuko Kanzaki in AKB0048)
Tastumi: Jun Fukuyama (Korosensei in Assassination Classroom)
Sandrat: Junichi Suwabe (Keigo Atobe in The Prince of Tennis)
Mei Merryhadda: Kotori Koiwai (Renge Miyauchi in Non Non Biyori)
Kento Mogami: Misaki Watada (female student in Undefeated Bahamut Chronicle)
Toshio Mogami: Tomokazu Sugita (Gintoki Sakata in Gintama)
Source: "Battle Spirits" official website
© BNP/Bandai, NAS, TV Tokyo