12-episode anime series is produced by Hoods Entertainment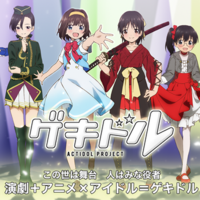 The official website for the upcoming "Engeki (Stage Play) x Idol" themed anime project GekiDol has posted its first PV featuring both live-action and anime footage. The project was announced at the Winter Comiket last December and the video was screened at their booth.
While most of its details have not been confirmed yet, the anime characters' original designs are provided by adult manga artist Asami Sekiya, and 12 anime episodes will be animated by Hoods Entertainment (If Her Flag Breaks, A Good Librarian Like a Good Shepherd). Its voice cast will be announced soon. And a stage play adaptation produced by Alice in Project is also scheduled to be performed in this spring.
"GekiDol" PV
Main visual
演劇+アニメ×アイドル=『ゲキドル』https://t.co/6MFUD3CUmb
アニメ制作:フッズエンタテインメント(全12話)
キャラクター原案:関谷あさみ
舞台:アリスインプロジェクト(今春上演)
キャスト:近日公開 pic.twitter.com/E3sXvzqG4A

— ANiME SEiYU アニメセイユウ (@animeseiyu) January 1, 2016
Photos from the Winter Comiket
本日ゲキタブをお手にとって下さった方々、どうもありがとうございました☆
明日も張り切ってがんばります♪ pic.twitter.com/ypbYnixa2i

— ゲキドル@公式 (@GekiDol_actidol) December 29, 2015
企業ブース338 「ゲキドル」
ゲキタブ配布中!本日もお待ちしております♪ pic.twitter.com/jdfL6WjnCp

— ゲキドル@公式 (@GekiDol_actidol) December 30, 2015
本日分の日本語版「ゲキタブ」配布終了しました。英語版の配布は引き続き行っております。

明日も、企業ブース338「ゲキドル」にてお待ちしております♪ pic.twitter.com/hcdwx1HiYv

— ゲキドル@公式 (@GekiDol_actidol) December 30, 2015
今日は、今年最後の日。
コミケの最終日もいよいよ始まります。

やあちゃん(左)とちいちゃん(右)がゲキタブを配布中☆
企業ブース338「ゲキドル」までお越しくださいね♪ pic.twitter.com/9GpB5WsJ4J

— ゲキドル@公式 (@GekiDol_actidol) December 31, 2015
最終1時間は撮影ラッシュでした✨(最後の方は囲み撮影とさせていただきました、ご協力頂きありがとうございました)

改めまして、演劇×アイドルをテーマにしたアニメ『ゲキドル』を応援よろしくお願い致します!!#ゲキドル #C89 pic.twitter.com/hbRa4Gij9H

— ゲキドル@公式 (@GekiDol_actidol) December 31, 2015
Source: "GekiDol" project official website, Twitter
© GekiDol Production Committee