Show re-edits & expands the "Mobile Suit Gundam Unicorn" OAVs into a 2-cour anime TV series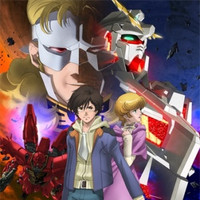 Crunchyroll previously reported on how Mobile Suit Gundam Unicorn, a 7 episode OAV series set in the "Universal Century" time line of the Mobile Suit Gundam franchise which was released on home video from 2010 - 2014, is being adapted into a 2-cour anime TV series which will air on TV Asahi beginning on April 03, 2016. Now new information about the production's music is available:
Hiroyuki Sawano, under his SawanoHiroyuki[nZk] vocal song project label, will perform the opening and ending themes of the new TV series. The new opening theme is entitled "Into the Sky" and will be performed by SawanoHiroyuki[nZk]:Tielle. The new ending theme is entitled "Next 2U -eUC-" and will be performed by SawanoHiroyuki[nZk]:naNami.
Sunrise describes the story of Mobile Suit Gundam Unicorn as follows:
"U.C. (Universal Century) 0001...
A new era is about to begin with the announcement that the settlement of space has commenced. But as the calendar change ceremony is in progress, the space station Laplace, official residence of the Earth Federation prime minister, is shattered by a terrorist bombing.
A young man named Syam, who joined the terrorists because of poverty, is caught in the explosion of Laplace and discovers something amid the wreckage. This is the forbidden box that will later be known as Laplace's Box.
Laplace's Box is never to be opened. There are few who even know what it is. The secret of the box continues to sleep with Syam.
U.C. 0096...
The manufacturing colony Industrial 7, which is still under construction, floats at Lagrange point 1.
A youth named Banagher Links, who grew up without knowing his father, meets a mysterious girl who has stowed away on a ship bound for Industrial 7. As the white mobile suit Unicorn undergoes repeated tests and becomes the subject of diverse speculations, the hands of time begin to move.
Banagher does not yet know that he has been caught up in the conflict surrounding Laplace's Box.
What is Laplace's Box? What secret does it contain? The hundred-year curse of the Universal Century is about to be resolved."
Sources:
Paul Chapman is the host of The Greatest Movie EVER! Podcast and GME! Anime Fun Time.