Tickets go on sale next week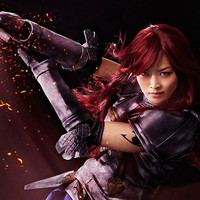 Following the introduction of Lucy earlier in the week, the stage adaptation of Fairy Tail continued its female cast introductions this weekend with Minami Tsukui (Kamen Rider Gaim's Yoko Minato/Kamen Rider Marika, with minor roles in earlier tokusatsu series) as Erza Scarlet.
Live Fantasy Fairy Tail is scheduled to perform 16 times at Sunshine Theater in Ikebukuro, Tokyo, from
April 30 to May 9. 7,800-yen advance tickets will go on sale on February 28. Precedent lottery for the
tickets will be held on Lawson Ticket earlier this week.
【ライブ・ファンタジー「FAIRY TAIL」ビジュアル解禁第7弾!!】
お待たせいたしました! 佃井皆美さん演じる<エルザ・スカーレット>です‼︎  #フェアステ https://t.co/phOE6OhijW pic.twitter.com/EGO56eLNw1

— 舞台「FAIRY TAIL」公式 (@fairytailstage) February 21, 2016