Ryouji Nakamori (Hellsing OVA, Bleach) adapts designs from Hellsing author Kouta Hirano's historical figures versus fantasy manga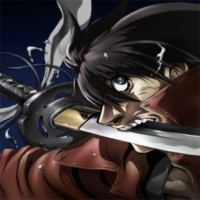 The site for the anime adaptation of Hellsing author Kouta Hirano's historical figures versus fantasy manga Drifters has been updated with a look at character designer/animation director Ryouji Nakamori's (Hellsing OVA, Bleach) approach to the series' leads.
アニメドリフターズ
キャラクターページ(島津豊久、織田信長、那須与一)を公開しました!
We are DRIFTERS!https://t.co/7ZfIj4k06u#drifters

— アニメDRIFTERS (@DriftersAnime) February 23, 2016
Jojo's Bizarre Adventure/Stardust Crusaders series director Kenichi Suzuki helms the production with Hideyuki Kurata (Grisaia, Maria the Virgin Witch, Nanana, The World Only God Knows) and Yousuke Yuroda (High School of the Dead, Gundam 00) writing series composition.
Shimazu Toyohisa - Yūichi Nakamura (Durarara's Kyōhei Kadota, One-Punch Man's Licenseless Rider)
Oda Nobunaga - Naoya Uchida (Hunter x Hunter's Nobunaga, Naruto's Madara)
Nasu no Yoichi - Mitsuki Saiga (Yurikuma Arashi's Life Cool)
Staff listing includes
Director: Kenichi Suzuki
Series Composition: Hideyuki Kurata
Screenplay: Yousuke Kuroda, Hideyuki Kurata
Character Design & Chief Animation Director: Ryouji Nakamori
Setting Research: Seiichi Shirato
Art Director: Ken'ichi Tatefuji
CG Producer: Garyo Tanaka
CG Director: Tomohisa Takae
Color Key: Haruko Nobori
Sound Director: Yota Tsuruoka
Letter Design: Setta
Editing: Kiyoshi Hirose
Elsewhere, the series' would-be savior Black King has been busy Tweeting, mostly admiring things black, like Anpanman villain Baikinman, or complaining about the cold, but also offering his take on the Mr. Osomatsu Blu-ray cover.
はい、はい、はいィ!どうも黒松です。おひさーブリブリ!!明日は兄弟作品の発売日ですね。うっ?えぇええ!DRIFTERSって赤塚原作じゃないの?それ早く言ってよぉ~(松重豊口調で) pic.twitter.com/TEYVwId7MP

— ENDStheBLACKLOAD (@ENDStheBL) January 28, 2016
------
Scott Green is editor and reporter for anime and manga at geek entertainment site Ain't It Cool News. Follow him on Twitter at @aicnanime.