The revived series will end with the next 22nd volume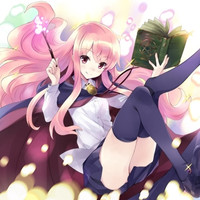 Kadokawa today released the long-awaited 21st volume of the late Noboru Yamaguchi's light novel series Zero no Tsukaima/The Familiar of Zero from its MF Bunko J imprint. The author passed away at age of 41 due to an unspecified cancer on April 4, 2013, and the last 20th volume written by him was published in February 2011. The series has printed 6.6 million copies worldwide.
Before he died, Yamaguchi left plots for the last two volumes of the series and the publisher decided to continue the series based on it with a different writer. While the original illustrator Eiji Usatsuka has returned, the new writer chosen by Yamaguchi has kept secret and no mention of his/her name on the cover of the new volume. Mantan Web posts a comment from Kadoakawa, "If we reveal the name of the new writer, that will cause preconceptions among the readers. We want them to purely enjoy the story." The next 22nd volume will be the last of the series.
21st volume "The Truth of 6,000 Years" cover
via: Mantan Web
© Noboru Yamaguchi
© KADOKAWA CORPORATION 2015