Advance screening event will be held on March 20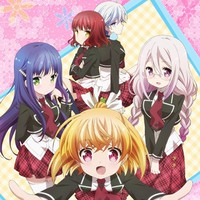 The official website for the upcoming TV anime adaptation of Gotoji's school comedy manga Anne Happy/Unhappy Go Lucky today updated with a new main visual featuring its five main girls: An Hanakoizumi, Ruri Hibarigaoka, Botan Kumegawa, Hibiki Hagyu, and Ren Ekoda.
The SILVER LINK.-produced series is set to premiere on AT-X, Tokyo MX, KBS Kyoto, Sun TV and BS Fuji this April. And an advance screening event for its first episode will be held at the Wald 9 Shinjuku theater in Tokyo twice (17:30 and 19:15) on March 20.
キービジュアルが公開となりました&HPがリニューアルいたしました。
これからも最新情報をお届けしてまいりますので引き続き「あんハピ♪」公式サイトをよろしくお願いいたします♪https://t.co/5SAc36xYKb#あんハピ pic.twitter.com/gjpErGrMjv

— TVアニメ「あんハピ♪」公式 (@annehappy_anime) 2016, 2月 24
And yesterday February 23 was the birthday of Botan Kumegawa. The anime's official Twiiter posted a special
birthday illustration for her.
今日、2月23日は「ぼたん」こと久米川牡丹のお誕生日です!お誕生日おめでとう♪
自分の事になると特に控えめなぼたんですが、あんハピっ娘の影のまとめ役だったりします。ぼたん、いつもありがとう♡#あんハピ pic.twitter.com/U7ze9fZr9z

— TVアニメ「あんハピ♪」公式 (@annehappy_anime) 2016, 2月 23
Main Voice Cast:
An Hanakoizumi (unhappiness): Yumiri Hanamori (Remo in Garakowa: Restore the World)
Ruri Hibarigaoka (tragic love): Haruka Shiraishi (Ronia in Ronia the Robber's Daughter)
Botan Kumegawa (bad health): Kiyono Yasuno (Megumi Kato in Saekano: How to Raise a Boring Girlfriend)
Hibiki Hagyu (no sense of direction): Hibiku Yamamura (Kirara Amanogawa/Cure Twinkle in Go! Princess PreCure)
Ren Ekoda (trouble with women): Mayu Yoshioka (Mayu Shimada in Wake Up, Girls!)
Kodaira-sensei: Yumi Hara (Tajane Shijo in The [email protected])
Timothy: Chitose Morinaga (Karen Jinryo in Shomin Sample)
Teaser visual
プチリニューアルしたあんハピ♪公式サイトご覧いただけましたでしょうか。アニメ版ティザービジュアルはあんハピ♪が表紙の本日発売「まんがタイムきららフォワード」でもご紹介中です!https://t.co/5SAc36xYKb#あんハピ pic.twitter.com/Ks3WOlqPY7

— TVアニメ「あんハピ♪」公式 (@annehappy_anime) December 24, 2015
Image PV
Manga tankobon volume 1 and 2 covers
Volume 3 and 4
Source: TV Anime "Anne Happy" official website, Twitter
(C) Gotoji/Houbunsha