P.A.WORKS 15th anniversary series will premiere this April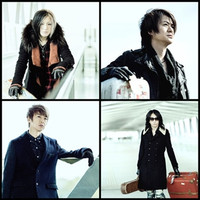 Four-member Japanese rock band GLAY has confirmed that they perform "Deathtopia," the OP song for P.A.Works' upcoming original robot anime Kuromukuro. The song is newly written/composed by the band's 44-year-old lead guitarist HISASHI. As a solo artist, he previously wrote/composed/produced "Monochrome Overdrive," the ED theme song for the 2014 winter TV anime Z/X IGNITION sung by voice actress Yurika Endoh, but "Deathtopia" is his first anime tie-up song provided for the band.
P.A.WORKS 15th anniversary TV anime series Kuromukuro is set to premiere on Tokyo MX, Sun TV, KBS Kyoto, and BS 11 this April. The release of the OP song has not been announced.
「クロムクロ」のオープニングテーマ曲が決定しました!!
担当して頂くのはGLAYでタイトルは「デストピア」!!
HISASHIさんによる書き下ろしで、ものすごくカッコいい楽曲に仕上がっています!ご期待下さい!!#クロムクロ pic.twitter.com/koHfbWP6aD

— TVアニメ「クロムクロ」公式アカウント (@KUROMUKURO_UNKL) February 25, 2016
---
"Kuromukuro" character visual school version
キャラクタービジュアル学校ver.を紹介です!メイン3人に加え、後列左から新キャラクターの荻布美夏(cv瀬戸麻沙美)、茅原純大(cv小林裕介)、赤城涼斗(cv石川界人)、ホセ・カルロス・高須賀(cv武内駿輔)です!! #クロムクロ pic.twitter.com/vQkMsbZHzy

— TVアニメ「クロムクロ」公式アカウント (@KUROMUKURO_UNKL) February 8, 2016
Character visual laboratory version
そしてキャラクタービジュアル研究所ver.です!富山県は黒部研究所をバックに、後列左から白羽洋海(cv東條加那子)、トム・ボーデン(cv木村良平)、リュウ・シェンミイ(cv植田ひかる)、セバスチャン(cv楠大典)です! #クロムクロ pic.twitter.com/VqQNy6WndD

— TVアニメ「クロムクロ」公式アカウント (@KUROMUKURO_UNKL) February 8, 2016
via: BARKS