"The Beginning Day" will be streamed on April 9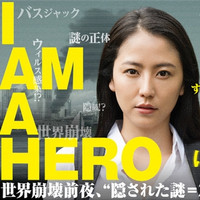 Two weeks before the theatrical release of the feature film adaptation of Kengo Hanazawa's zombie survival manga I am a HERO in Japan, NTT DoCoMo's online-video service dTV will start streaming its prequel web drama I am a HERO: Hajimari no Hi (The Beginning Day) on April 9. 28-year-old Masami Nagasawa stars as Yabu/Tsugumi Oda, who also appears in the film. Through her experience as a nurse, the web drama explains how the zombie pandemic spreads across Japan.
Toshikazu Nagae, best known as the writer/director of Paranormal Activity 2: Tokyo Night, is attached to direct under the supervision of the manga author. Same as Tokyo Night, the web drama is filmed in POV style.
"I am a HERO: Hajimari no Hi" trailer (Warning: the video contains gore and violence)
---
The manga has been serialized in Big Comic Spirits since 2009. Its total print run has reached 4 million copies,
and currently 18 tankobon volumes are available in Japan. Shinsuke Sato (GANTZ, Library Wars) directs the
feature film adaptation on the screenplay by Akiko Nogi (Library Wars). Makoto Kamiya (Godzilla, Mothra and
King Ghidorah: Giant Monsters All-out Attack, Japan Sinks) works on special effects.
The story is set in a modern-day Japan attacked by an infectious disease which turns people into carnivorous
ghouls called "ZQN." The protagonist Hideo Suzuki, who works as a manga assistant and has a shotgun for clay
target shooting, tries to survive the apocalyptic situation.
Feature film trailer
WARNING: The film itself is rated "R15+" (for persons aged 15 and above only, no one under 15 admitted) in Japan.
Movie flyer
Manga tankobon 1st and 18th volume
via: Movie Natalie
© Movie "I am a Hero" Production Committee © Kengo Hanazawa/Shogakukan