Jouji Nakat is also cast as the turtle-inspired villain Gamettsu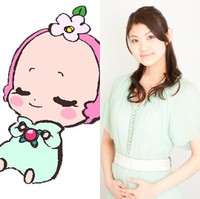 It is officially revealed today that 24-year-old voice actress Saori Hayami, best known as Ayase Aragaki in Ore no Imouto ga Konna ni Kawaii Wake ga Nai and Miyuki Shiba in The Irregular at Magic High School, will play a fairy baby named Haa-chan from the upcoming 4th episode of Mahou Tsukai PreCure!/Maho Girls PreCure!. The baby has already appeared in the OP movie.
Hayami previously joined the anime's 1st episode as a cat. With her current high status as one of the most successful young anime voice actresses, many fans have expected that she will be one of the regular voice cast in the series sooner or later.
It is also confirmed that 61-year-old voice actor Jouji Nakata, the voice of Alucard in the Hellsing anime series, will also join the series as one of the villains, the war-loving turtle warrior Gamettsu, from the same 4th episode to be aired this Sunday.
【魔法つかいプリキュア!】
2月28日(日)朝8時30分より第4話放送!新キャラキャスト公開!妖精の赤ちゃん役で早見沙織さん、ドクロクシーの手下ガメッツ役で中田譲治さん!4話より登場!https://t.co/9CUZZi9TDI pic.twitter.com/I7c1UpBgDw

— 東映アニメーション (@toeianime_info) 2016年2月27日
4th episode trailer
"Mahou Tsukai PreCure!" Main Visual
Source: "Mahou Tsukai PreCure!" official website
© ABC, Toei Animation